Share: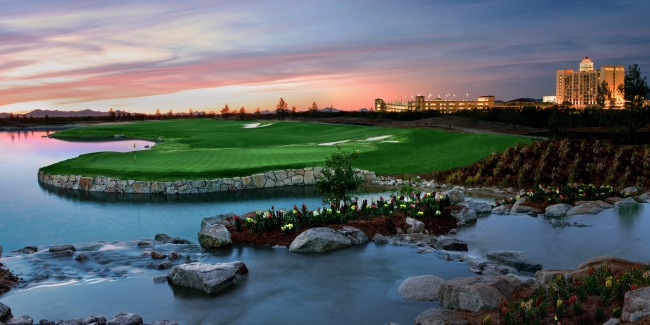 NB3 Introduces the new Sewailo GC
By Greg Miles
The new Sewailo Golf Club is located on Pascua Yaqui tribal lands immediately adjacent to the Pascua Yaqui nation's Casino del Sol in Tucson, AZ. If 'casino' golf courses were mandated to select and publish their lucky number, without question Sewailo Golf Club's lucky number would be three.

To begin with, Notah Begay III, is the architect of this course, and his design of Sewailo is his third architectural undertaking following Sequoyah National in Cherokee, NC, and Firekeeper Golf Club in Topeka, KS. Located just southwest of Tucson, this 7,400 yard course was designed and built to achieve three objectives; first, to stay in harmony with the desert, second, to maintain the heritage of the Pascua Yaqui nation, and, third, to welcome and challenge all levels of golfers. While being located in the heart of the desert, Begay describes the style of this course as a "hybrid between a desert and parkland style of layout." Golfers at Sewailo will be surprised to discover three natural features not usually found in desert golf courses -- lakes, streams, and flowers. Take that lucky number 'three' and multiply times ten thousand and that's the number of desert flowers and shrubs that were moved or added to the Sewailo course. The seven lakes, totaling 14 acres are placid, while nearly two miles of narrow streams flow rapidly about the course.

The Sewailo Golf Club plays to a balanced par of 72 (36-36) with two par-5's and two par-3's accompanying the five par-4's on each side. There are five sets of tees at Sewailo with the longest tees measuring 7,282 yards and the shortest set placed at 5,209. Middle sets of tees have yardages of 6,744 / 6,339 / 5,862 respectively; additionally, the scorecard offers one 'mixed set' at 6,592 yards rated at 70.5 / 128. Sewailo Golf Club has three conveniently located practice areas, a 24-station grass driving range, a practice putting green, and a bunker / chipping area with target green.

The three A's: On the day before Sewailo's grand opening to the public, Notah Begay played the course amid a group of golf writers and afterwards answered questions about the design of his new Sewailo project. Alluding to his new career as a Golf Channel analyst, Notah was asked by a golf writer if he would prefer to be recognized as a golf architect or a golf analyst. Notah replied that he would truly like to be recognized as an activist -- a person who gave back to his community. Notah's concern about community leads directly into another trio of revenue benefits that the Sewailo undertaking will produce. Sewailo GC will provide 75 on course jobs for members of the Pascua Yaqui tribe. Drawing visitors to play Sewailo, will generate off-site tourist revenue for other Tucson businesses, which will then add tax revenue to help all the citizens of Tucson.

When asked which hole on Sewailo might be considered his signature hole, Notah's reply was that "there could be three." First on his list is the treacherous, uphill, #10 hole. Playing at 638-yards from the back tees, this par-5 doglegs between two lakes and a stream; it is HDCP 1. Length-wise, at the opposite end of the spectrum, was Notah's next choice, his 155-yard (back tees), par-3, #3 hole that features a stone-walled peninsula green jutting out into one of the seven lakes. And thirdly, with reference to his experience playing in the British Open at St. Andrews, Scotland, Notah has incorporated a double green that services holes # 1 and #8 at Sewailo.

Even before its opening, Notah's championship layout at Sewailo had been touted to possibly attract three important event recognitions. Just announced, is that Sewailo will become the home course for the University of Arizona men's and women's golf teams. Should the city of Tucson lose the WGC Accenture Match Play Championship, Sewailo is hopefully in consideration to attract a Champions Tour event; additionally there is talk of the LPGA possibly returning to Tucson at Sewailo.
Sewailo Golf Club is operated by Troon Golf, the worldwide leader in world-class golf management. Now that it is officially opened to the public, the Pascua Yaqui tribe says "A-See-Wa-May to Sewailo" which means welcome to the flower world golf club.

Website: www.sewailogolfclub.com Phone: 1-520-838-6623

Revised: 12/16/2013 - Article Viewed 22,715 Times - View Golf Course Profile
About: Greg Miles
---

Greg Miles is Senior Writer for GolfChicago! Magazine and resides in Lake County, IL. He has been a golf writer for 21 years, and a member of the Golf Writers Association of America for the past 17 years. A graduate of the University of Notre Dame and Marquette University, he has played more than 5,500 rounds of golf in his life at 462 different courses; enjoys collecting golf memorabilia and is a Golf Nut Society member.
---
More Articles by Greg Miles