Share: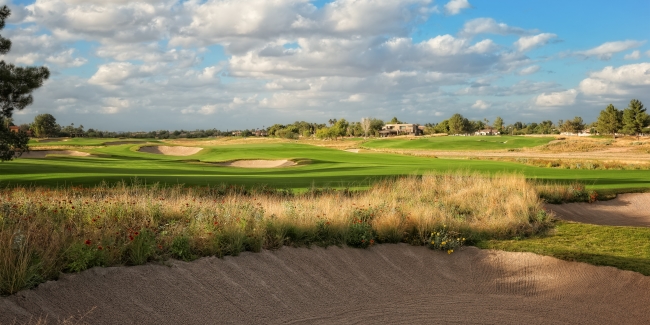 Ambiente in Scottsdale
By Scott Kramer
It's a spectacular sunny morning in Southern California. It also happens to be Christmas week, when traffic will be light. So we load up the car and head the family six freeway hours east to Scottsdale, Ariz. I'm eager to play the brand-new, 7,225-yard Ambiente golf course at Marriott's Camelback Golf Club. It's a private club with access to Marriott hotel guests.

By the time we arrive in the late afternoon, there's no time to play golf. But we check into the nearby JW Marriott, and find ourselves plopping our luggage down in a large and nicely appointed casita. That's the standard room at the hotel. It's quite a bit larger than most hotel rooms, with the usual features. My favorite part is the private patio flanked by a couple of cacti. A great place to sit on the comfy chairs and relax.

The next morning, my son and I head over to play Ambiente. We are lucky enough to paired with director of sales and marketing Shane Allor. After all, he can provide guidance on where to hit. "It's 122,000 square feet of greens, lots of undulation on the greens and fairways, and the native grasses really make it stand out," says Allor. "We've gone from 200 turf acres on the old Indian Bend course that existed here down to 90 acres. We've taken a lot of the native grasses and made them come into play. You can get in trouble real easy. It's a tough course. For every level of player, though, you have an opportunity to shoot a good score and have an enjoyable round."

Being a low handicap, I opt to play from the back tees. My son, a beginner, tees it up from the forward tees. The course is exactly one month old, and looks like it's in pristine condition. The fairways and greens are bright green, and I'm very eager to play.

That is, until I take my first tee shot of the day and put it in the left rough - it flirts with the edge of the fairway, then glances an overhanging tree branch and instantly becomes un-findable. Not the most optimal way to start the round. But things quickly improve. I'm able to find the fairway for most of the front nine, and notice several things about course right away. First of all, as we were warned beforehand, the greens are rock-hard. After all, they're brand-new and still need to mature. But they roll very fast, making putting a challenging activity for the day. Breaks are difficult to read. Eventually I play for less break then appears, which seems to fare better.

The second thing I notice is that the bunkers are very steep and difficult to emerge out of. To worsen matters, many of the pin placements are right behind the bunker, with many of those lightning fast greens breaking away from the bunkers. So if your shot comes up short of the bunkers, you'll have a very tough time getting your next shot over the bunkers and stopping them on a dime by the pin.

Another thing that becomes a frequent sight here are all of the narrow fairways. In fact, several of my tee shots I think are hit right down the middle. But by the time I reach them, I realize the ball has rolled through the fairway, down a steep slope and into the thick rough. Some of them are lost. But that's kind of to be expected from a brand-new course, especially one in the middle of the desert.

There are 74 bunkers on this course, and I feel like I found most of them. A dried-up wash runs nearly the length of the course. And it comes into play on several holes. There's lots of pronounced mounding throughout the course, as well, both on the greens and in the fairways.

As a low handicap, I recognize that this is a very difficult course to play from the tips. However my friend - also a low handicap -- has already played from the more forward tees, and was able to break par. So I think this difficulty I'm experiencing is a case of both not knowing the course well and also not playing the proper tees for my game. Several people I speak with afterwards also tell me that once you play the course about four or five times, you get a much better feel for where to play shots and lower your scores.

To be honest, the course was too much for my son, who remember is a beginner. But I think that higher handicaps who play golf regularly will find this to be a fun and entertaining course. I'd like to come back and play it in about two or three years, once the greens have matured some. I think I will have a much easier go of it. That said, I also think it's a great and likable challenge right now for better players. It's in phenomenal shape, and the greens are rolling very true at this point.

After birdying one hole on the front side, I feel a little more in command. There are some notable holes on the back nine. I really enjoyed the 393-yard par-4 13th, especially the tiered green. The 245-yard par-3 15th is a funky hole that also features a noticeably sloped green. You really have to be conscious of where you're placing your approach shots, so that they break the proper way towards the hole. And by the time I reach the 462-yard par-4 18th, I realize I'm probably shooting in the low 90s or so. Which is a lot of strokes for my usual game. Thankfully I wasn't keeping score, otherwise I might have officially had my ego handed to me.

As Allor alluded to, Ambiente has replaced the old Indian Bend course that was at Camelback Golf Club. Indian Bend was completely torn up about two years ago and Ambiente now occupies the space. The routing is totally different, elevation was added in many places, and many trees were removed (which reportedly stirred up plenty of complaints by locals). The feel of Ambiente is completely different than Indian Bend's was, and officials hope that this new high-end layout will attract many new golfers.

I've personally had enough golf for the day. The next morning, I stop in the hotel's full-service Starbucks. After a perfect peppermint mocha, I go out front and catch the five-minute shuttle van over to the course. Today I'm playing sister course Padre that has been around for years. As the pro promised me, Padre is a much more player-friendly course. The fairways are wider, the landing areas are large, the traps are less hassle to get out of, and the greens roll true. And at 6,868 yards, it's more manageable. The course is pretty, and it's kind of a typical Arizona resort course in that it's flat, fast, easy and fun to play. An expected contrast to Ambiente, the greens hold well. So many approach shots just kind of stick and even create some backspin. I wind up shooting 78, which is right on target for my game. Funny thing is, I don't feel like I hit the ball any better than I did the first day. But that goes to show you the difference in playability between the two courses right now.

Bottom line: The Camelback Golf Club offers two vastly different playing experiences. I believe golfers of all abilities will enjoy both courses. Especially as Ambiente grows older and its grass matures more, I think it's going to get a lot of favorable reviews from golfers. And Padre is simply a solid, good resort-style layout that people will really enjoy time and again.

That night, my family gathers in the patio area of the hotel. Amid lighted fires and heat lamps all around, a musician is strumming a guitar and singing Christmas music. We order some desserts, and bring a board game out to play. A perfect atmosphere and an ideal way to end this great low-key getaway.

The next morning is Christmas Day. We load up the car, check out of the JW Marriott, and ride away back to Southern California. Best of all, no traffic.


Revised: 01/02/2014 - Article Viewed 21,661 Times - View Golf Course Profile
About: Scott Kramer
---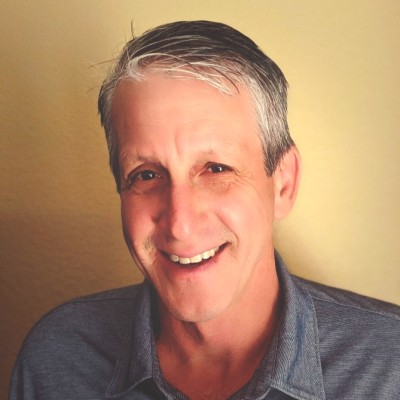 Scott Kramer, former senior editor of Golf Magazine, is a freelance golf equipment writer based in Carlsbad, Calif. - the unofficial capitol of the golf equipment industry. His work can be found on a regular basis in publications, such as T&L Golf, PGA Magazine, Met Golfer, Golf Tips and Private Clubs.
---
More Articles by Scott Kramer