Share: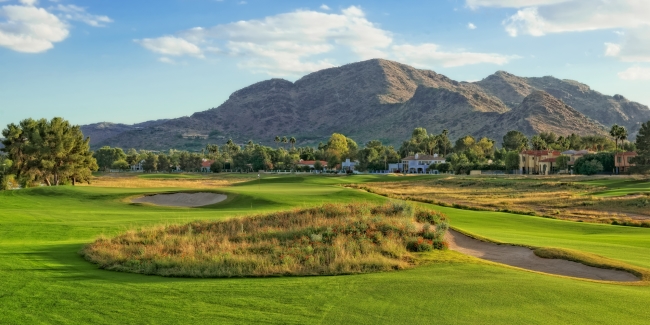 Ambiente Course at Camelback Golf Club
By Larry Berle
In this economy there are not many new golf courses being built in the U.S. but Marriott invested over $10 million in the new Hurdzan-Fry designed Ambiente course at Camelback Golf Club in Paradise Valley AZ. This is the first new course in the greater Phoenix area in five years.

Ambiente, means environment in Spanish and they have incorporated the local environment into this golf course design. It takes the place of the old Indian Bend Course but don't confuse it with a remodel. Its a brand new golf course. Plenty of dirt was moved. 150 acres of Bermuda rough was "naturalized" with native grasses along with summer and winter desert wildflower mixes meaning the new golf course will save 60 million gallons of water per year. Rob Bartley, the director of golf referred to it as "healing the earth" These native grasses now frame the fairways, giving it a very unique look. (It's also thick in places so you have a place to loose golf balls)

You will rarely stand anywhere where there is not a bunker in sight. 74 in all, that is an average of over 4 per hole. Some are deep and quite challenging but many are directional and don't really come into play, but they do attract your attention, helping to show you the best route. Speaking of best routes, the GPS on the carts is an outstanding tool showing exact carry distances over bunkers and you can utilize the touch screen to see lay up distances as needed.

The fairways are firm and fast as are the greens. Most greens in AZ are over seeded with Rye but this is new Champion Bermuda and it putts wonderfully- much better than over seeded Rye. Did I mention the greens are firm? How firm are they? We were told by the starter "try to land your approach shots on the front of the green, because they will run towards the back." It only took one hole to see how right he was. Ambiente will certainly test your shot making, putting and green reading skills. If you like greens with lots of movement and undulation in them, then you are going to love it here.

Tucked into the village of Paradise Valley, don't let the views of the surrounding McDowell Mountains distract you. There is more elevation changes than you would expect on such a flat piece of piece of property. This course runs out and back along a wash, that is dry most of the year but it floods during monsoon season, so in this design, they had a challenge to keep the wash functional as needed for environmental protection.

There are 4 sets of tees ranging from7275 yards down to 5538. Its easy to find a distance that will suite you although I think some women will be looking for something less than 5500 yards. The only thing I can say about that is: The firm fairways will make it play shorter.

Ambiente is owned and operated by Marriott and is affiliated with the Marriott Camelback Resort nearby. Camelback Golf Club has two championship courses, Ambiente and Padre. They offer very attractive stay and play packages.

Bunkers and fast greens with plenty of undulation is what this place is all about. Its a challenge but I liked it enough that I want to go back and play it again.

One last thing. There are not many golf courses in the Phoenix area that allow walking, but they not only allow it, but encourage it here. Personally, I love that.

More Information
www.camelbackgolf.com
www.camelbackinn.com
Revised: 01/13/2014 - Article Viewed 22,257 Times - View Golf Course Profile
About: Larry Berle
---

A Golfer's Dream is Larry Berle's first book. In his previous career, Larry owned SRO Productions in Minneapolis, Minnesota; a company specialized in concert promotion, event management, and CD compilations for radio stations. He worked with many artists, including Andy Williams, Tony Bennett, George Winston, Yanni, B.B. King, James Taylor, Bill Cosby, and Sinbad. After 31 years in the business, Larry sold SRO in 2004. He still produces small theatrical plays occasionally but spends most of his time playing, and writing about, golf.

Larry was introduced to the game by his wife Annie in 1990 and has been an avid fan and player ever since. Annie took him to Pebble Beach for his birthday in 1992 where the dream to play the Golf Digest Top 100 was born. What is truly amazing about Larry Berle is not only that he achieved his quest but also that he published this book. In June of 2006, with 90 percent of the first draft completed, he suffered near-fatal injuries as a result of a bicycle accident in Minneapolis. He lay in a coma for nearly two weeks and was hospitalized for two months. Larry not only survived but made a full recovery and regained his fabled drive and ability to concentrate. After months of therapy, he was able to complete and publish A Golfer's Dream, a testament to his remarkable achievements in golf and in life. A slightly above-average golfer (handicap index of 11.9), Larry has no handicap in networking and is not afraid to ask for help, especially when it comes to playing Top 100 golf courses.

---
More Articles by Larry Berle